Merendino Truss Foundations
Why Worry? It can be this easy!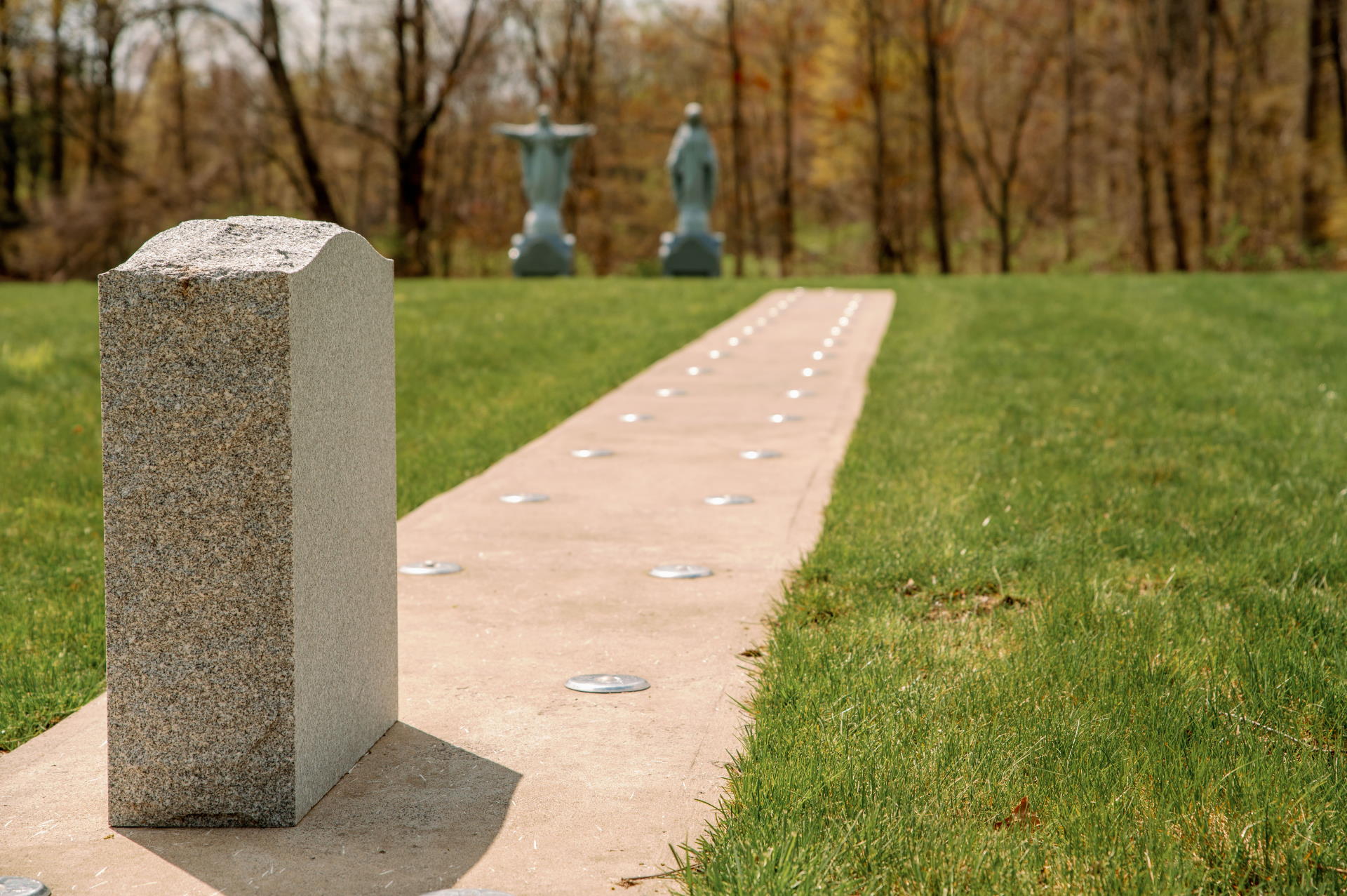 Merendino Truss Foundations
Why Worry? It can be this easy!
With over a thousand graves per acre, traditional foundation layout can be time consuming, prone to error and require specially trained staff. Merendino truss foundations will decrease your labor, provide for immediate memorial installation, and reduce the chance of burial error. Creating the value and service your families deserve while providing a boost to your operation.
You have more to accomplish
Marking out graves and memorial foundations can be problematic. Don't get bogged down or leave it to chance.
We have poured over 30,000 foundations
We have worked in over 100 cemeteries, all over the country
We respectfully handle 1 out of every 650 burials in the U.S.
We understand your cemetery issues…Because ALL we focus on are cemeteries.
Are you working with a landscape architect? Do you already have foundation plans but have been unable to find the time to install? Do you have an idea but need design help?
We take the worry and frustration out of installing your foundation.
Call for a Consultation
We will come to your location and review your needs.
Review the Options
We will present you with options so you can decide what works for you.
Focus on Your Day
Let Merendino Cemetery Care handle the details.
We all understand the need for cemetery foundations underneath the headstones, markers and monuments in your cemetery. But what if they could save you time, aggravation, and money?
With Merendino Truss foundations, we can layout your lots, rows or entire sections for you. Stainless steel lot markers can be pre-installed into the foundations. Lines can be scribed into the wet concrete, indicating the extent of the graves. These simple steps can save time on grave layouts, hours of training staff and the headaches of mis-marked graves.
Merendino truss foundations also provide an important safety element. Weather and soil conditions will inevitably lead to unstable grave excavations. When this occurs, there is always the possibility of a family memorial being damaged or the additional work of retrieving a foundation that ended up in the grave. Truss foundations will support themselves, eliminating these risks, even if multiple graves have to be opened at the same time or in succession.
Depending on the needs of your cemetery, truss foundations can be set on grade with additional concrete in front of the memorial to place cemetery decorations. Alternatively, we can set them slightly below grade, with a mulch or gravel bed. Either way, maintenance is greatly reduced.
Download our free pdf and schedule a call to see how Merendino truss foundations can be a benefit to your operation.
Merendino Cemetery Care has been pouring monument foundations within our grounds for over ten years, each location is measured, and completed with precision. The work is always neat and met in a timely manner. Our most recent project with Merendino was to install a truss foundation. Throughout the entire process the workers treated the grounds with dignity and respect to visitors. The completed project makes identifying graves easily accessible for sales and interments. The work that was performed enhances our ability to showcase and secure all monuments.  We look forward to continuing to work with Merendino Cemetery Care.